Dallas Multifamily Market Remains Strong Through Q1 2018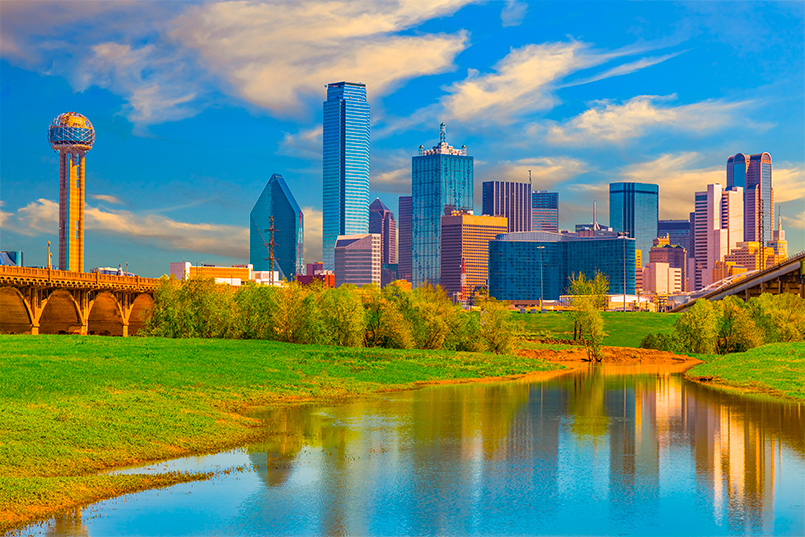 ---
After standing out as one of the stronger performing markets in the country during 2017, Dallas continued its momentum during the first quarter of 2018. Rent growth and investment activity remained strong, while vacancy rates held at historically low levels despite a high volume of new supply added to the market.
Rental Market
According to data from Reis, the average asking rent in Dallas finished Q1 2018 at $1,141/unit. This figure is up 0.9% since the end of 2017, and has risen in every quarter since year-end 2009. Year-over-year asking rent increased 5.6%, which ranked 15th nationally. Rent for Class A properties increased 5.4% year-over-year, while the Class B/C average rose 4.4%. Reis forecasts overall asking rent to grow 4.7% during 2018 and slow to 1.9% by 2022.
We observed previously that Dallas led the nation with 17,200 new multifamily units completed during 2017. Although demand has been strong, it has not quite been able to keep up with the pace of new supply, as absorption totaled only 11,100 units for the year. That trend continued in the first quarter, as a total of 2,300 new multifamily units were completed, which was the second highest total nationally behind only Houston, while absorption totaled 1,700 units. Reis forecasts 23,500 new units to come online during 2018, which would surpass the 2017 record total, while absorption is expected to reach 17,100 units.
The additional new supply continues to put upward pressure on vacancy, although levels remained below historical highs. The overall vacancy rate finished Q1 2018 at 5.1%, slightly higher than the 5.0% rate reported at the end of 2017, and an increase as compared with 4.6% one year ago. The high volume of new luxury developments have especially weakened Class A vacancy, finishing the quarter at 6.2%, up from 5.8% one year ago. The vacancy rate for Class B/C properties finished the quarter at 3.6%, up from 3.2% one year ago. A result of the new development activity points to 2016 likely being the cyclical low for the vacancy rate, as Reis forecasts that vacancy will increase to 6.0% by the end of 2018, and remain in that range through 2022.
Sales Market
The Dallas multifamily investment market held steady during the first quarter of 2018, after leading the nation in sales volume during 2017. Data from Real Capital Analytics (RCA) showed that sales volume totaled $2.0 billion during the quarter, slightly lower than the five-year quarterly average of $2.1 billion.
The average sales price for Dallas multifamily properties during the 12 months ending in March increased 8.1%, and remained near historical highs. The U.S. overall average sales price was up 2.9% during the same time.
The average cap rate over the last 12 months fell to 5.9%, compared to 6.0% one year, although remained higher than the U.S. overall rate of 5.6%.
The Dallas Apartment RCA CPPI™ increased 14.1% over the last 12 months, compared to 11.8% one year ago and 11.3% for the U.S. overall.