Multifamily Development Strategies and Challenges in 2020 and Beyond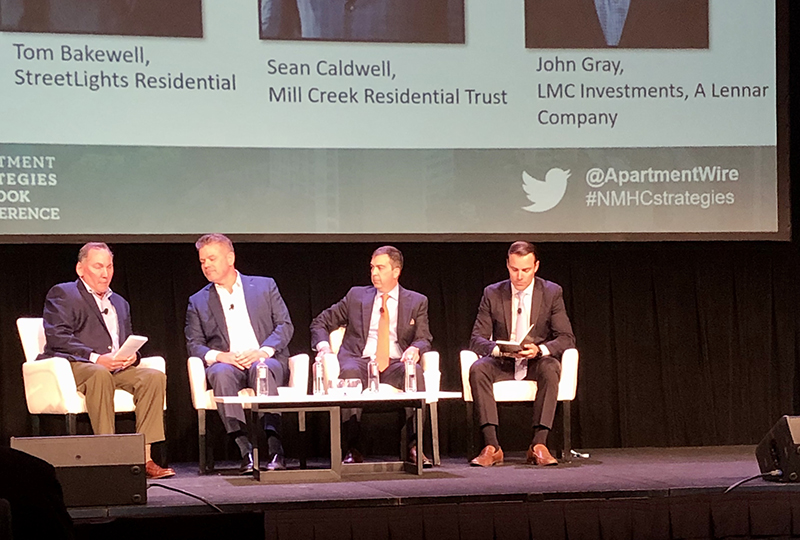 ---
Key strategies for development, including building for long-term holds and adapting to changing renter profiles, were discussed at the recent NMHC Apartment Strategies Outlook Conference in Orlando, FL. Panelists also touched on some of the challenges in the coming year, including rent control and rising costs.
"Build to Core" Strategy Gaining Ground
At this stage in the current cycle, an abundance of capital is chasing a limited amount of multifamily deals. Yields are lower and cap rates are compressed. As a result, developers have to change their approaches from what might have worked in the past.
The traditional buy, lease sell strategy isn't yielding the same returns as in previous years. Developers like Mill Creek Residential are finding more success with focusing on a "build to core" approach that involves building and stabilizing a property to hold for a longer term, noted panelist Sean Caldwell, Executive Managing Director at Mill Creek.
Panelists added that while build-to-core properties used to be urban high-rise, Class A assets, now more mid-rise and suburban-located buildings are being developed for this approach as well.
Intense competition for sites remains a significant challenge for developers, observed Kevin Keane, COO of The Bainbridge Companies, which has also focused more on a build-to-hold strategy. However, he concluded that "the apartment business is still probably the best investment out there in the markets right now."
Renter Profile Shifting Beyond Millennials
A focus on attracting millennial renters has characterized this cycle. But another demographic is making a major considerable into the sector: empty nesters.
"If we can find a core site that has a good empty nester story to it, it's kind of a home run out of the gate," Caldwell said. He acknowledged that these deals might have thinner yields. However, there's a general acceptance that internal rate of return (IRR) goals are likely to be lower than earlier on in the cycle.
Fellow panelist John Gray, President of LMC Investments, the investment management arm of Lennar, observed a similar trend. He added that many developers have been building smaller, 700- to 800-square-foot units, with the expectation that millennials would drive the product type. However, some properties are seeing their three-bedroom units achieving the highest rents per square foot, driven by strong empty nester demand. This age group tends to have higher discretionary income and prefers more space.
These renters also tend to stay longer than younger generations who may look to move into a new development when their one-year lease expires. As a result, Caldwell added, finding the right location that will attract the empty nester demographic "has to be bulletproof."
At development firm Streetlights Residential, President of Development Tom Bakewell noted that his firm tends to build separate apartment properties for these demographics, including different unit sizes and amenities.
"We design a project specifically for what our demographic is going to be," he said.
Challenges Ahead for Developers
Panelists also addressed some of the issues developers will face in the coming year, one being rent control. Bakewell noted that his firm has traditionally stayed out of markets with rent regulations. Southern California markets seem to be an exception where the model has seemed to work pretty well.
He added that many markets are now "in limbo" as they are discussing new rent regulations or affordability requirements. This makes it hard for developers to enter those markets or present them to investors.
"I'd almost rather be in a market where it's already thought through and out there so I know exactly what the rules are and how to play by them," he said.
Short-term rentals were another hot topic of discussion. Several panelists said their firms have been hesitant to build them. The main concern is if full-time residents will accept temporary tenants. There are also risks with bringing in individuals who haven't gone through the same screening process as traditional renters.
"We want to make sure residents in our properties aren't exposed to any undue risk," Keane noted. He added that his firm has created buildings where the short-term rentals are separate from the other residences.
Finally, panelists discussed the issue of increasing construction and operational costs. The coastal markets like San Francisco and Los Angeles are seeing 7% to 8% cost growth per year, with most markets seeing 3% to 4% cost growth, Caldwell said.
Bakewell agreed, adding that high costs are coupled with moderating rent growth in the last few years. Figuring out where you can cut costs without sacrificing quality will be a challenge for developers in the coming year, he said.
---
For more insights on the U.S. economy and multifamily outlook for 2020, view our recent webinar.