The State of the U.S. Economy and Multifamily Market Heading into 2020
Apartment demand remains robust, but a lack of affordable supply has led to housing affordability issues.
The longevity of the current cycle is primarily due to the continued slow but steady growth of the U.S. economy.
Commercial real estate's strong fundamentals and current performance mean it is unlikely to the cause of the next market correction.
---
As the longest expansion in U.S. history continues, real estate industry players are looking at the performance of the U.S. economy and the market's fundamentals for clues as to the longevity of the current cycle. At a recent event hosted by Arbor Realty Trust and Capstone Apartment Partners, Sam Chandan, founder of Chandan Economics and Silverstein Chair of the NYU Schack Institute of Real Estate, shared his insights on the macroeconomic environment and multifamily market as we approach 2020.
Multifamily Market Faces Affordability Challenges as Demand Grows
The multifamily sector has performed well throughout this cycle. Demand for apartment properties remains robust. However, a lack of affordable supply to meet this demand has led to a sustained erosion of affordability for renters, Chandan noted. Since the end of 2011, rents have increased faster than median household incomes, according to the Bureau of Labor Statistics.

Courtesy of Chandan Economics
"There's not only an ample opportunity but a need for us to continue to introduce new housing opportunities to the market for a broad, diverse set of renters in the United States," Chandan said. He added that it primarily lies with the private sector and local governments to provide affordable housing options.
New development over this cycle has focused heavily on high-rise Class A properties in the urban core. However, smaller, garden-style multifamily properties are needed to offer a less expensive housing option for renters.
Aging Millennials are a target demographic for these smaller properties as they begin to get married and start families. This age group is becoming less concerned with living in a walkable downtown area with access to bars and restaurants. It is more focused on being near quality public schools and transit hubs connecting to a range of economic opportunities.
A Changing Housing Market
Chandan added that the old duality of the housing market – the choice of suburban or urban and owning or renting – has broken down. More metros are finding a balance of offering rental options outside of the urban core that still have transit options and a "downtown feel." Investors have the opportunity to position new properties and renovate older assets to better cater to these changing renter preferences.
Just as housing market dynamics are evolving, so too are views on rentership. Millennials with a lot of student debt who are struggling to pay it off are finding that renting is a more viable option than homeownership. This demand has been a boon for the rental market and provided a steady need for rental housing options during this cycle. Older generations are also seeing homeownership as less of a necessity due to the flexibility of renting.
Longevity of the Current Cycle Reflects Slow But Steady Growth
June 2019 marked the 10th anniversary of the current expansion, which has been characterized by steady rates of growth in the U.S. economy. Several factors are contributing to this subdued growth, with a significant one being labor market challenges.
One issue characterizing the past few years has been that there are more jobs open today than ever before, but employers are struggling to find workers who fit these roles. This skills mismatch is especially prevalent in the high-tech and skilled construction industries.

Courtesy of Chandan Economics
Chandan suggested that in the construction sector, in particular, the housing crisis may have made potential workers wary of the cyclicality of the industry. As a result, many young people haven't gone into the field in the post-crisis period. The tight construction labor market and high materials costs have impacted the multifamily industry. Developers and owners are finding it difficult for some to make some of their deals pencil out.
Another factor contributing to this cycle's longevity is that the housing market is not overheated. While house prices are higher than ever before, that's due to the lack of new single-family inventory that's come on line, and the supply that is available is "hotly contested."
Real Estate Unlikely to Be the Cause of the Next Inflection
A salient point Chandan discussed was that while there is concern about a possible inflection, downturns are historically shorter that the growth periods that follow. The timing of the inflection point is unpredictable. Still, multifamily owners and operators can prepare themselves by creating defensive plays and focusing on tenant retention. This will ensure they are well-positioned to withstand a less favorable economic environment.
He added that real estate shows no signs of being the cause of an imbalance that would lead to the need for a market correction. Underwriting remains conservative, construction levels are subdued, and vacancy and occupancy rates are healthy.
A potential candidate for the next inflection could be the extraordinary amount of corporate debt in the U.S. economy. While household debt has declined over this cycle, corporate debt has grown significantly. Some companies have raised a lot of capital but are struggling to identify opportunities to deploy it. This trend is parallel to what's happening in commercial real estate. There is a significant dry powder available, but competition for high-quality assets is intense. Chandan added that a lot of this capital is waiting for a modest downward pricing correction to make their investments.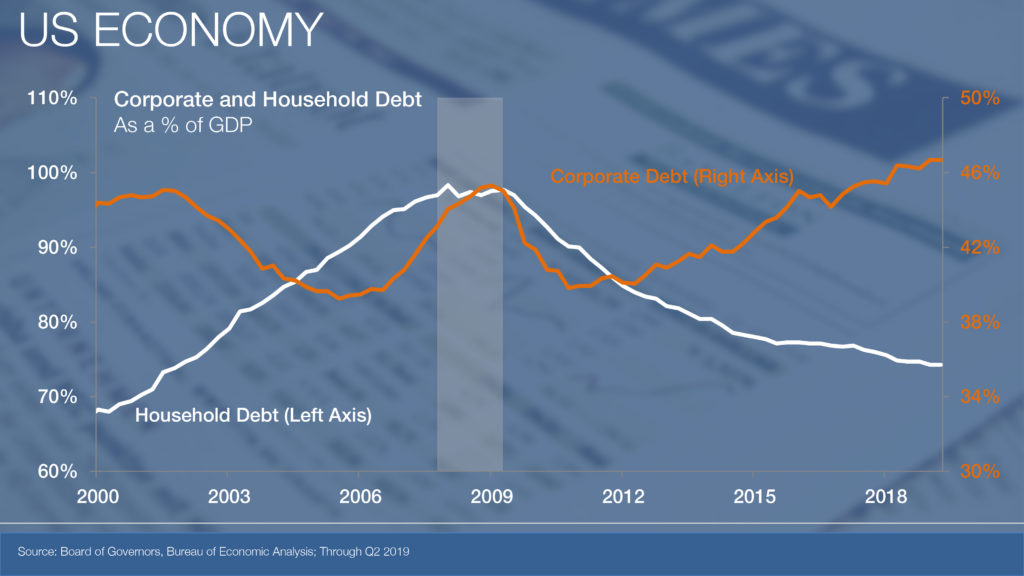 Courtesy of Chandan Economics
He added that external factors like geopolitical events or trade disputes are ones to watch, as they could impact investment activity and the Federal Reserve's decisions around interest rates. However, an inversion of the yield curve doesn't necessarily indicate a recession is imminent like it has in past cycles.
"It's a more complex dynamic this time around," he said.
---
For more research and insights on the multifamily market, visit our Chatter Blog.