Seniors Housing and Healthcare Trends for 2018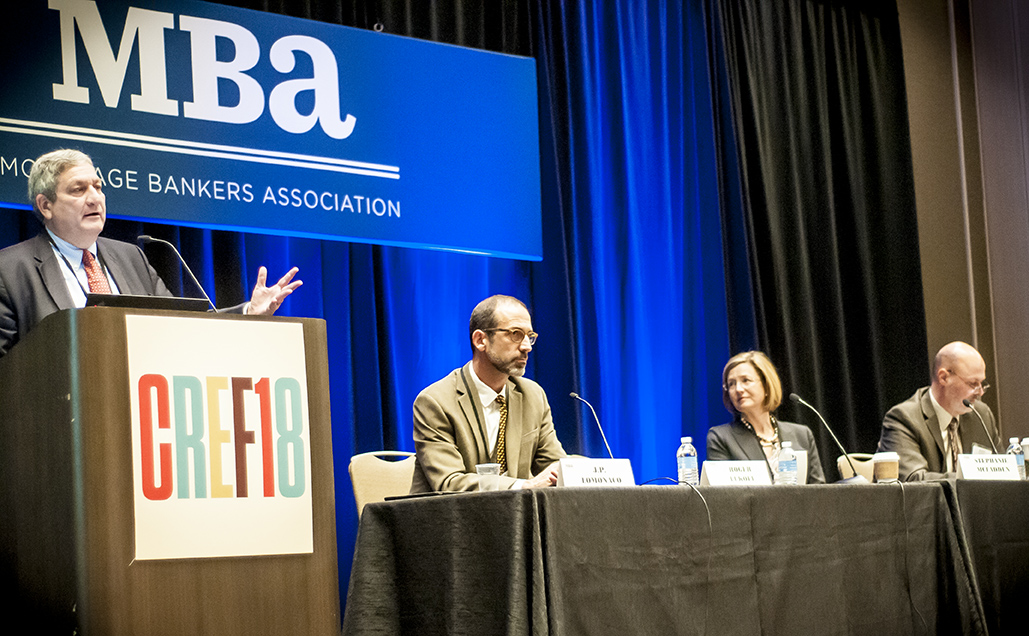 ---
Increased life expectancy, aging baby boomers and the skyrocketing costs of hospital stays have created demand for a broader, more comprehensive set of seniors housing options. An expert panel met at the Mortgage Bankers Association's (MBA) 2018 CREF conference in San Diego to expound on trends in the ever-evolving sector.
Jean-Pierre LoMonaco, President, Valuation & Information Group, opened the discussion with an anecdote about meeting a representative from Amazon.com at an ASHA conference. Although Amazon.com is a known frontrunner in a growing number of industries, the e-commerce behemoth is certainly not what comes to mind when discussing healthcare. But considering the range of products and services Amazon.com can deliver to a doorstep, a focus on the seniors housing and healthcare sector makes a lot of sense.
While seniors housing has been evolving since the '90s, LoMonaco said that a recent shift in population demographics has served as the ultimate catalyst for increasing both housing stock and the scope of offerings. In 2020, the first baby boomers will be turning 75, meaning that our population of older seniors is on the verge of rapid expansion.
"This generation is so big that they have continuously put stress on our economy. They have historically created shortages in products like diapers, and caused swells in the building of elementary schools, colleges, and housing," LoMonaco said. "As they continue to age, it's going to really impact seniors housing, and we're right on the cusp of seeing that."
Combine the sheer size of this group with increased life expectancy and it's easy to see why seniors housing is an attractive investment opportunity. But that doesn't mean this sector is free of hurdles.
"The number one concern is operations and development costs," added Stephanie McFadden, Managing Director, CBRE, Capital Markets. "This concern is primarily driven by staffing costs and minimum wage hikes."
Though this is an important element to note, positive economic factors like job growth, wage growth and appreciating home prices have made baby boomers more confident that they can afford the costs associated with moving into assisted living facilities. This confidence has been mirrored by the capital markets.
"We've seen more sources of debt and equity in the last 2-3 years than ever before, and we're seeing money from just about every source," LoMonaco added.
More than a solid investment prospect, seniors housing serves a greater need — affordable and accessible healthcare. With the help of FHA's Healthcare programs, hospitals and residential care facilities are able to construct or upgrade buildings at a reduced cost.
"Without the FHA programs, fewer facilities would be built, modernized or refinanced," said Roger Lukoff, Deputy Assistant Secretary, Healthcare Programs, HUD.
Lukoff explained that this would not only limit access to hospital and residential care, but would also cause a surge in the price of operating costs. HUD's overarching goal is to work with private lenders to support the financing of these urgently needed facilities. This requires a certain level of communication with lenders as well as a streamlined loan process.
"We've completely reengineered the process of FHA's 232 loan program," said Roger Lukoff. "If you bring a clean application to a loan committee, we've seen approvals in 30 days after they make it through the queue."
The FHA's simplified loan process supports the success of investors, but also enables a quicker turnaround time for implementing the programs necessary to provide residents and patients with the care they require. LoMonaco stated that today's evolving business and care models are an important step in addressing the anticipated needs of aging residents.
All in all, the key takeaway from the panel seemed to be fairly clear — with one of the largest generations in history on the verge of entering their senior years, supporting the seniors housing and healthcare sectors is not only a necessity, but a promising investment opportunity.