COVID-19 Impact on Multifamily Demand and Operations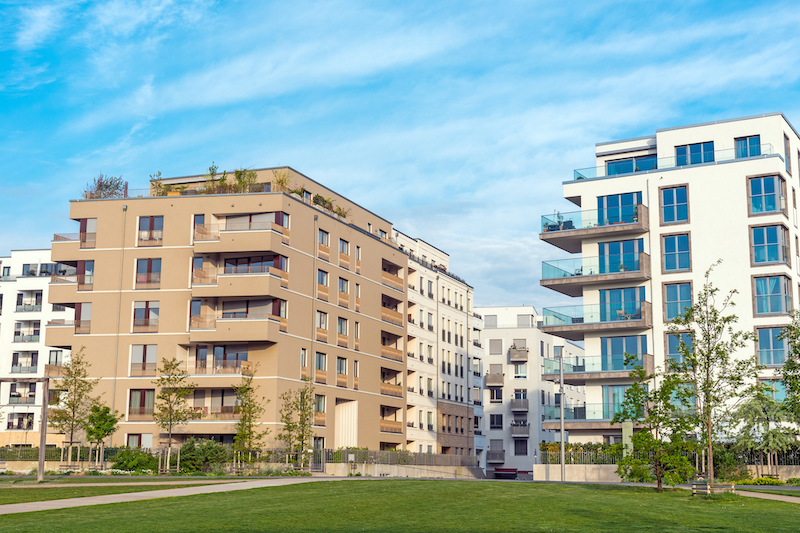 Key Highlights

Multifamily operators will need to check procedures regarding property maintenance, hygiene and safety, rent collection and home deliveries.
Ongoing local, state and federal government support for tenants and operators will be crucial in stabilizing the rental market.
The novel coronavirus pandemic will impact one-in-four working small multifamily households.
---
In just a few months, the country has experienced historically unprecedented events, triggered by the coronavirus. From the first domestically confirmed COVID-19 case on January 20, the virus has reached close to 400,000 cases in the U.S. by April 8. Following the declaration of a national emergency on March 13, at least 30 states have issued stay-at-home orders as of March 30. That covers more than 80% of the nation's population.
School and office closures in support of social-distancing measures have forced families indoors, making working and learning from home the new normal. As consumers have severely curtailed discretionary spending, main street businesses are scaling back and increasingly shuttering operations, driving a cycle of job and income losses.
In the two weeks following the national emergency declaration, 10 million individuals have filed for jobless claims, with the unemployment rate rising to 4.4%—the largest month-over-month spike in 45 years. Reflecting the national mood, the stock market continues to whipsaw on a daily basis. All this appears to be just the beginning of activity which could last at least until the end of Q2, if not longer. Some economists suggest we already are in a recession.
As hubs of human and economic density, cities will bear the brunt of these unfolding events. The multifamily sector, which forms the bedrock of the urban workforce, will undoubtedly be affected by job losses and the ability to pay rent. On the apartment operations side, managers are already having to make critical decisions to ensure safety and the orderly conduct of business. This article outlines the wide-ranging impacts of recent developments. Upcoming articles will examine individual topics in greater depth, as the situation unfolds in the coming weeks and months.
Impact on Multifamily Demand
Mounting unemployment in the short to medium term will have a singular, direct bearing on household rental lease defaults. Workers employed in industries that are dependent on discretionary consumer spending, including food services, retail goods and services, and personal services, will continue to experience job reductions.
Apartments in urban areas are home to a disproportionately higher concentration of such workers, thus undermining current and projected rent rolls. Job losses will impact rental leases for households headed by people employed in these industries. Our broader risk-assessment for the labor market classifies workers by low- to high-risk industries and occupations, and for self-employment, which we will discuss in upcoming articles.
Focusing on high-risk NAICS (North American Industry Classification System) industries impacted by main street closures, these include retail trade, accommodation and food services, arts, entertainment and recreation, and other services. (NAICS is the default standard used to categorize business data by type of activity.) Household heads employed in these industries make up a markedly larger share of those living in multifamily compared to the overall U.S. average.
Nearly 27% of all high-risk working households living in small multifamily properties are headed by workers employed in these industries, compared to 22% in large apartment properties and only 17% among owner-occupied units. This means that more than a quarter of all leases held by working households could come under some rent default pressure in small properties, and to a lesser degree in large properties.
However, this picture may vary across businesses which employ workers across a range of occupations and skills. For example, the retail sector employs sales managers and floor workers, as well as IT specialists, computer coders and marketing executives. While not all of these jobs will be affected equally, employment will depend crucially on the size of the business and its capacity to weather the current storm. Households facing the highest risk, where household heads are employed in customer services and floor operation occupations in the above industries, constitute 18% of all renter households in small properties, compared to only 9% among owner-occupied households. Highest-risk households are those where the household head is employed in high-risk industries and lower-skilled occupations, including sales and floor operations.
These numbers provide an order of magnitude of the impending tide of potential layoffs in this fast-developing picture, where even large and established retailers may not be spared.
Older Renters Require Support
Given the stay-at-home directives across the nation, a major concern remains the safety and well-being of population segments vulnerable to COVID-19. Among apartment residents, this includes older renters living in a variety of household arrangements, especially those living alone.
While individuals 65 years and over represent about 16% of the overall U.S. population, they make up a higher share, 21%, among renters in large apartment properties. More strikingly, older renters living alone form a significantly higher share of 15% in highly amenitized large buildings compared to only 5% in small multifamily properties and 4% across all housing types.
As seniors shelter in place, they face several challenges in going about their daily lives. One silver lining in the current crisis has been the role of the internet in enabling access to critical functions, including food, groceries and pharmaceutical deliveries, and facilitating interaction with relatives, friends and colleagues. More recently, telemedicine is being advocated as a means of seeking medical support while staying at home. The above services and functions remain critical for the well-being of seniors as they self-isolate.
At the same time, senior renters remain woefully behind in benefiting from technology due to low internet access and computer literacy. Nationally, around 19% of all individuals 65 years and over do not have access to the internet. These numbers spike to an alarming 40% among older renters in large apartment buildings, and 36% in small properties.
While an overnight change is unlikely, neighbors and managers can play an important role in mitigating these circumstances. Additionally, stricter protocols, such as contactless doorstep deliveries managed solely by buildings, are seeing wide-scale adoption. Periodic check-ins will also go a long way in ensuring the safety of older renters, especially those living alone.
Multifamily Operations Adapt to the New Normal
The unprecedented and rapidly evolving pandemic has thrust building operators into a crisis management mode across a range of activities, including property maintenance, hygiene and safety, rent collection, and accommodating a significant spike in home deliveries. Operators have to work tirelessly with residents to prevent community spread of the virus. They also must make sure that their essential staff is healthy and able to service building emergencies. While the level of engagement varies with building size, even small asset owners need to take precautions.
As part of ongoing prevention efforts, property owners and building managers are following federal and local health guidelines. For example, the Centers for Disease Control and Prevention (CDC) has issued a set of guidelines for community facilities that it recommends for apartment building operators. At the local level, for example, the New York City Department of Health and Mental Hygiene has asked that building staff wash their hands with soap and water while entering and leaving work, and after each cleaning.
Properties are following enhanced and frequent cleaning protocols in high traffic areas, which also cover surfaces including doors and doorknobs. Buildings have been strongly advised to have hand sanitizers in common areas like lobby and lounge areas. Social distancing norms mean limiting the number of people getting into elevators to no more than two people at a time, encouraging tenants to use stairs or wait for the next lift. Properties are increasingly limiting the access and use of public areas, such as lobbies and lounges. Buildings across the nation are also being encouraged to post flyers that educate tenants about the coronavirus.
Many larger multifamily companies have stepped up tenant outreach via email regarding cleanings, schedulings, and public health updates and precautions. As tenants stay-in-place, multifamily properties are experiencing a massive uptick in home deliveries, including food and groceries. Large buildings are automating package receipts to inform tenants on a real-time basis to minimize overflows and public area traffic. Implementing contactless food delivery, increasingly the industry standard, requires that building front desks coordinate information with tenants.
Policy Support for Tenants and Operators
As the depth and scope of the COVID-19 effects become clearer, communities are pulling together in several ways. While cooperation between tenants and property owners remains essential, policy support across local, state and federal lines will be required. Several states, such as California, New York, Texas and Illinois, have already enacted laws placing a moratorium on evictions. In addition, the Federal Housing Finance Agency (FHFA) recently announced a loan payment deferment plan for agency multifamily borrowers facing hardship from revenue losses caused by the coronavirus.
In a March 23 announcement, FHFA stated it will "offer multifamily property owners mortgage forbearance with the condition that they suspend all evictions for renters unable to pay rent due to the impact of coronavirus. The eviction suspensions are in place for the entire duration of time that a property owner remains in forbearance. The forbearance is available to all multifamily properties with an Enterprise-backed performing multifamily mortgage negatively affected by the coronavirus national emergency."
To take advantage of this program, property owners holding Freddie Mac and Fannie Mae loans would need to demonstrate hardship as a consequence of the pandemic. This would include tenants not able to pay rent due to coronavirus hardships. Fannie Mae has delegated its lenders and servicers authority to grant forbearance to borrowers attesting financial hardship caused by the COVID-19 emergency.
An April 6, Fannie Mae FAQs sheet states lenders and servicer will review the current financial condition of borrowers "using prudent commercial underwriting standards such as reviewing rent rolls and collections when making the determination of whether the relief is warranted under the circumstances."
With rent collection, many operators are voluntarily introducing policy changes to ease the financial burden on tenants. These moves align with the "Prepare for April 1" advisory for property owners and operators authored by the National Multifamily Housing Council (NMHC) following the state-by-state directives.
NMHC's national recommendations include a 90-day stop on evictions, a 90-day halt on rent increases, and the creation of payment plans for residents not able to make rent. Additionally, many property owners are voluntarily waiving late fees for the duration of the recommendations. While these immediate measures will provide relief, more robust state and local government support will be required if this crisis extends into the summer months.
In the absence of deep resources, small multifamily property owners and operators could be disproportionately hit in their ability to absorb revenue losses from rent defaults. While encouraging landlords to continue working with tenants, the NMHC also urges specific proactive measures. These include communicating clearly with residents, outlining small business financial obligations, including the payment of utilities and taxes, and an expectation of rent payments in a timely manner. The guidelines also suggest pointing tenants impacted by COVID-19 to locally available resources.
On March 27, the $2.2 trillion stimulus bill, the Coronavirus Aid Relief and Economic Security Act (CARES Act) was signed into law. This provides forbearance of mortgage payments for multifamily properties with federally backed loans, when borrowers experience financial hardship caused by the coronavirus and documented with the servicer.
Such measures will go a long way towards stabilizing the rental market, putting both owners and tenants at ease.
The above article outlines several ways in which the coronavirus pandemic is already affecting multifamily renters and operators. While economic shifts are only beginning to unfold, additional policy responses will likely be needed to mitigate losses. As of now, when this crisis will end or how many people it will impact is still unknown. Our upcoming articles will track significant events, while providing market insights.
---
Read the latest coverage of what the coronavirus means for the multifamily sector published on Arbor's Chatter Blog. Contact us today to discuss various financing options and investments in today's market conditions.